Nissan reveals new Sentra Nismo Concept saloon at LA
Nissan reveals high-performance concept of its US-only saloon, powered by a 240bhp version of the Juke Nismo engine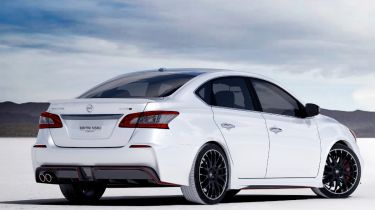 Nissan revealed three new Nismo models at the LA motor show. Joining the ballistic 593bhp GT-R Nismo and the track-focused Juke Nismo RS on the stand was a new concept - the four-door Sentra Nismo concept.
Finished in a striking pearlescent white and sporting the same two-tone black alloy wheels and red detailing on the body kit as the Juke Nismo, the Sentra is designed to show how the Nismo tuning treatment can be spread out across the rest of the range in the near future - which here in the UK will include the all-new Qashqai.
Under the bonnet is a new engine based on the same 1.6-litre direct-injection turbo from the Juke Nismo, but now bored out to a larger 1.8-litre capacity, and producing "more than 240bhp" and 325Nm of torque - giving it similar performance to the highly tuned 1.6-litre unit in the recently revealed Peugeot RCZ R.  
Power is sent to the front wheels through a beefed-up six-speed manual gearbox and a limited-slip differential for extra grip and to help put the power down, but a Qashqai using the same powertrain would probably be 4WD. The suspension and steering of the Sentra has been Nismo tuned for a more engaging dynamic setup, and it uses the same high-performance Brembo braking system as the 370Z sports car.
Inside the Sentra gets the usual Nismo treatment with leather and Alcantara wrapped Recaro bucket seats, a sportier steering wheel and carbon fibre and chrome trim accents. Although just a concept at this stage Nissan gave strong hints that this car would make production in America - and we could see its engine featuring in one of the other cars in Nissan's line-up in the near future.