Nissan Leaf to increase range up to 250-miles
Nissan is set to offer a choice of Leafs with different batteries increasing the electric car's range up to the 250-mile mark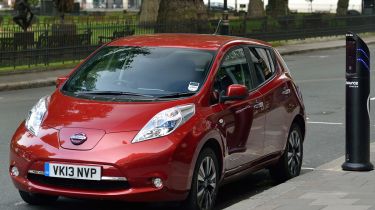 The UK's best-selling electric car, Nissan's Leaf, will be able to go further on each charge from 2016 as Nissan is set to offer a 30kw battery in addition to the current 24kw unit.
The extra battery capacity will enable the car to cover around 150-160 miles per full charge, up from the 80-100 miles expected out of existing Leafs. But Nissan won't be stopping there – an all-new Leaf, due to be unveiled in 2017, is expected to offer a variety of battery options beyond 30kw, with top-of-the-range models offering a range of around 250 miles.
A Nissan insider told us that the plan was to have a range of Leafs with different battery outputs, meaning different range, performance levels and prices. "Expect the next generation Leaf to mirror any other car with a wide range of engine options, but ours will all be electric powered," we were told.
A Nismo Leaf is not out of the question, with Nissan's performance arm already having produced the Leaf-based all-electric Nismo RC racer. The 30kw version of the Leaf is likely to debut at the Frankfurt Motor Show in September, before going on sale alongside the 24kw version early next year.
Now take a look at our top 10 best electric cars to buy now...