'Motorists undeservedly fined for lockdown offences will now be very tempted to contest them'
Mike Rutherford thinks the government's defence of Dominic Cummings casts doubt over many of the lockdown fines handed out to motorists.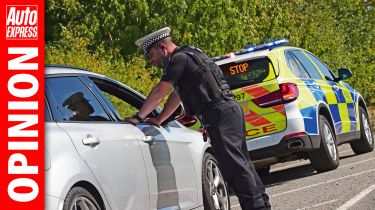 I take back everything I've ever said about daytime telly. It's often painful to watch: Homes Under The Hammer or Bargain Hunt, anyone? No, thought not. Mind you, Cars Under The Hammer and Banger Hunt could work…  
But credit where it's due, Bank Holiday Monday's 'Live Special' featuring Dominic Cummings on location in where else but the high-security garden of 10 Downing Street will go down in history as classic afternoon TV. Honestly, it was like nothing we've ever seen before - or will ever see again, I suspect.   
OK, panto villain Dom is not one of Britain's elected rulers. But as the Prime Minister's political adviser cum enforcer, rule he does – with an iron fist. So for such an important bruiser of a bloke to spend over an hour tenderly talking into the camera about himself and his family embarking on a near 300-mile drive from his home in lockdown London to the farm he co-owns in similarly locked down Durham was unprecedented. Also highly unusual was his claim that he somehow managed to complete this road trip lasting several hours from south to north utterly non-stop. What, no need to refuel, stretch the tired legs, take 40 winks, grab a coffee or snack, have a pee, wash the hands? Apparently not.  
And it gets better still because before he returned home from Durham pre-Easter he saw fit to 'road test' his eyes by going on a circa 60 mile round trip by car from (still) locked down Durham to the tourist town of Barnard Castle, which had the same potentially life-saving status.  
I'll leave it to the Police, legal experts and political world to decide whether Mr Cummings was guilty or innocent of breaking lockdown rules (he helped draw up) when he did that circa 600 mile round trip by car from London - Durham - London (not forgetting the separate day trip to Barnard Castle thrown in for good measure).  
But I'll leave it to you, dear reader, to decide whether you should now be tempted to at least fight that lockdown-related fine you feel you unfairly received when you ventured out in your car in weeks or months just passed. If you were caught and fined and you know deep down you did wrong, you'd be wise to bite the bullet and accept your financial punishment. It's a fair cop, and all that. But if you've been accused of a lockdown offence you honestly feel is undeserved, do not be afraid to contest it. But only if you have valid and credible reasons to do so. The I was merely road testing my eyes-type defence offered by Mr Cummings was invalid and lacking credibility, I'd argue.
But at least it was (unintentionally) humorous - possibly the funniest thing I've seen on daytime TV since that baby elephant relieved itself during a live broadcast of Blue Peter. 
Have you been fined for a lockdown car journey that you think was allowed under the rules? Let us know in the comments...