"The number of people searching for dog-friendly cars is on the rise"
Editor-in-chief Steve Fowler thinks pets are now playing a big role in the new cars we choose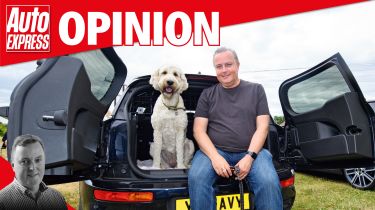 It's well known that kids' pester power can play a big part in car buying, but pets, too? As you can see from the picture above, Sky the Goldendoodle has to be happy in any car I live with. And given that my wife and I are considering what car we invest in next, Sky will play a very big part in the decision – she'll probably come car shopping with us, too.
This week, Sky and I spent some time with MINI and the people at Dogs Trust, learning not only how to keep pets safe and comfortable in cars, but also how MINI is training its dealers to be dog-friendly. It's a smart move in my book; as a nation, our love for our four-legged friends has increased through lockdown, with the number of dog-owning families growing by around a third.
Every one of MINI's 131 dealers has been put through a rigorous training programme, designed by the Dogs Trust experts, to make sure that pooches are pampered as much as people when they go into the showroom.
Every member of staff will be trained in how to welcome dogs into showrooms safely, while there will be Dog Champions at every retailer to make sure your furry friends get the VIP treatment they deserve.
It may all sound like a bit of a gimmick, but we know that the number of people searching for dog-friendly cars in on the rise. And anything that car dealers can do to make life easier and more appealing for buyers has to be a good thing, doesn't it?
Although we're starting to see changes in the way cars are sold, especially online, the showroom experience is lagging behind. Some brands have moved into shopping centres to reach more customers, but the out-of-town retailer experience is pretty much the same as ever.
That's about to change as car makers take more control of the sales process. However, every one of them will stress the important role retailers still play, so the more they do to let us – and our dogs – enjoy the experience the better.
Click here for our list of the best cars for dog owners...