'The ULEZ expansion is more about Sadiq Khan grabbing cash than cleaning the air'
Mike Rutherford wonders about the motives behind London's Ultra Low Emission Zone expansion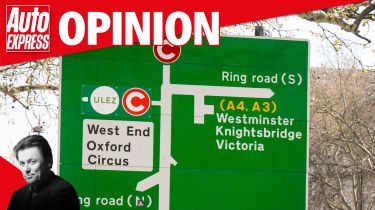 Uxbridge, 21 July, 2023: the ballot papers are counted and the local, real-world folks voted at their by-election to kill off the proposed rollout of the Ultra Low Emission Zone across the 606 square miles of Greater London – some of which is open, sweet-smelling countryside. Labour should have won, but didn't because it aligned itself with, and was tainted by, the proposed £12.50-per-day ULEZ racket. The Conservatives won because they adopted an anti-ULEZ stance. Game over? Er, not quite.   
London, 28 July, 2023: High Court judges living in a very different world gave permission for local Mayor Sadiq Khan to start snatching those payments from the pockets of drivers he deems to be driving the wrong cars and vans – even though the Government, DVLA and Police say they're perfectly legal.
As of now, Khan's expanded ULEZ rip-off seems likely to be launched on 29 August. Since 2022, and again this year, I've issued repeated written and verbal warnings about how the politically motivated, money-grabbing, barely legal scam could seriously whack the family finances of millions of motorists. Those extortionate daily fees of £12.50, plus fines/late payment and other financial penalties 24/7, 364 days a year equate to additional annual expenditure of up to £4,000 per car. Make that £5,000-£6,000 if you're a frequent late payer or not great at admin.
Via this column, the BBC, LBC, GB News, TalkRadio and elsewhere, I've repeatedly warned that this malarkey is more about Khan's fiefdom grabbing more cash than it is about cleaning the air. And it's not just a potentially wallet-destroying, liberty-taking problem for Greater London residents driving to work, shops, hospitals, the homes of relatives or wherever. It's also a financial nightmare for untold residents in close commuter-belt counties such as Berkshire, Buckinghamshire, Essex, Hertfordshire, Kent, Middlesex and Surrey, which border the capital. And a tad further out but still within daily commuting distance of ULEZ-infested Greater London are Bedfordshire, Cambridgeshire, Hampshire, Oxfordshire and Sussex.
People in the densely packed bottom half of England will be the first comprehensively fleeced victims. But I'm afraid the top half will be next. As soon as the ULEZ fees and fines start raking in the millions – billions, eventually – for London's Mayor, his counterparts up north will surely jump on the lovely jubbly, money-for-old-rope bandwagon.
Opinion polls prove that iffy ULEZ-type schemes designed primarily with cynical revenue-raising in mind aren't OK with the masses across Britain. The same goes for Britain's deeply dodgy political 'system' that gives millions of motorists living in more than a dozen counties within commuting distance of Greater London absolutely zero say in voting in or voting out the Mayor of London, who wants to fleece them.
If this is democracy, I'm a banana. And if Sadiq Khan doesn't wish to inherit the King of Gross Hypocrisy crown from his old mate, John 'Two Jags' Prescott, he'll ditch his giant, combustion-engined, gas-guzzling Range Rover and use a Citroen Ami instead, please.
Do you agree with Mike? Let us know in the comments section...