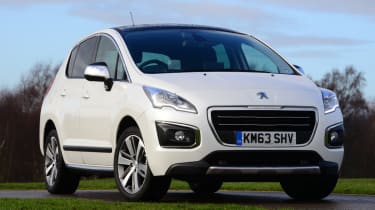 Our pick: 3008 HYbrid4 ActivePrice: £27,245
There are bigger crossovers available, but few come close to the diesel-electric 3008 hybrid for clean emissions. The Active model has a figure of 85g/km and it's roomy enough for five, plus luggage.
It's powered by the 2.0-litre HDi 163bhp diesel engine coupled to a 37bhp electric motor, producing a total of 200bhp. 
The 3008 isn't the most attractive crossover on the market compared to more recent rivals, but it remains a practical and competitively-priced option. However, it's beginning to feel dated now, even after a mid-life refresh.