Peugeot 807 (2002-2010) review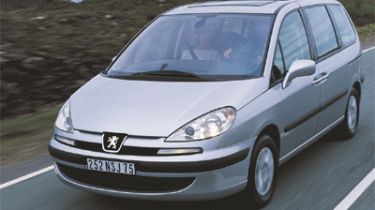 Like the Ford/VW amalgam that is the Galaxy, Sharan and Seat Alhambra, Peugeot shares its full-sized MPV with other manufacturers. PSA group partner Citroen calls their version the C8, with Fiat badging their version the Ulysee. Unlike its 806 predecessor the 807 is not based on a commercial vehicle, being designed from the outset as an MPV. Inside that's immediately apparent, with a huge number of cubbies to stow all the detritus a family attracts, while the electrically operated sliding rear doors are sure to delight on the school run. The seats offer a number of possible layouts, swivelling, sliding folding and tumbling, removing them all gives you a vast load space. Even with all the seats in place there's a fair sized boot, though it'd struggle to cope if you plan on taking it on a family holiday.
There are a range of 2.0-litre and 2.2-litre petrol and diesel engines. Of them it's the range topping 2.2-litre HDI that makes the most sense. The similarly sized petrol might offer slightly more refinement, but the additional torque and better consumption figures for the 2.2-litre HDI make it easily the best choice. The smaller engines struggle to cope with the weight of the big MPV. The suspension soaks up bumps and crests with ease, while wind and road noise is kept to a minimum - making the 807 a relaxed long-distance machine. The dash-mounted gearshift is rather rubbery in action and the steering isn't the most responsive - but overall the driving experience is up there with the class leaders. Well specified, spacious and smartly designed inside and out, Peugeot finally has a full-sized MPV take on the best of the competition.
Engines, performance and drive
0
MPG, CO2 and Running Costs
0
Interior, design and technology
0
Practicality, comfort and boot space
0