Peugeot RCZ-R vs Nissan 370z Nismo: FWD vs RWD
Can the new FWD Peugeot RCZ-R beat the RWD Nissan 370z Nismo on track?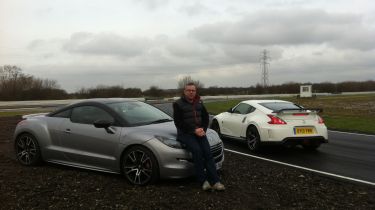 Stunning to look at and great to drive, the Peugeot RCZ has always been a fantastic coupe. But this car, the RCZ-R, has more power, revised suspension, bigger brakes and it costs just over £30,000. But can it be as much fun on the track and lap as quickly as a 3.7-litre V6 RWD coupe like the Nissan 370z Nismo?
With its beefy body kit, the Nissan 370z costs £10,000 more than the standard Z. You only get 16hp more, and that shaves the 0-60 time by 1 tenth of a second. But you do get a new exhaust and suspension lowered by 10mm. Costing just over £5,000 more than a standard RCZ the R has a completely reworked engine that produces 266bhp and puts that power on the road with a limited slip diff, total unique suspension and upgraded brakes.
The RCZ's trying to be a really engaging motorsport-inspired coupe, and for that it needs to take on some of the best cars out there. The 370z ticks a lot of boxes, as it's rear-wheel drive with a V6 engine, a proper muscle car - so how's it going to compare on track?
This 370z Nismo version has been tuned with motorsport inspiration so it's got 339bhp, 16bhp more than the standard car, while the suspension's also 20% stiffer and you can notice that on the track. Body movement is better than a standard 370z obviously being RWD that adds an element to it. However it feels like a heavy car and you can feel the weight of the six-cylinder engine in the nose.
The RWD Nissan lapped our circuit in 1 minute 13 seconds. But how will the FWD Peugeot compare?
The RCZ-R has only got a 1.6-litre engine but it's really punchy and feels very very quick. This is actually the most powerful 1.6-litre production engine in the world now, so it's really quite rapid.
It also turns in really sharply and what you do have to do is make sure you get some heat in the rear tyres with the stability control turned off. Through a high-speed change of direction here it's really good, with positive steering and body control is really good.
Incredibly, the FWD 1.6-litre Peugeot ran the Nissan very close, recording a lap time of 1 minute 13.4 seconds.
These cars couldn't be more different, yet they recorded lap times just 4 tenths of a second apart around our test track: The Nissan was faster, but there's no losers here. The Peugeot is the fastest FWD car we've ever tested and delivers amazing performance for a 1.6-litre engine. It's also more fun to drive than ever before. But the Nissan is packed with character too, which just goes to prove if you're in the market for a fun coupe you're spoilt for choice.