The Auto Express Podcast
On this week's Auto Express Podcast, the team discuss the new Gordon Murray Automotive T.50 , BMW's plans for electrification and the Honda e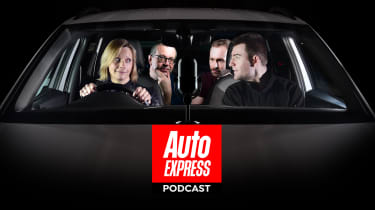 Welcome to the Auto Express Podcast: our new, weekly show hosted by top TV motoring journalist, presenter and racing driver, Vicki Butler-Henderson.
Every Wednesday, join Vicki and members of the Auto Express team as we delve into the biggest news stories, the most exciting reviews and everything else from the world of cars.
Whether you're after industry insight, consumer advice or just good, old-fashioned opinion, we've got you covered. We'll even treat you to behind-the-scenes stories that you won't hear anywhere else.
The star of this week's podcast is a V12 engine! We have some exclusive audio of the Cosworth V12 that's going to be sitting in the back of Gordon Murray's new T.50 supercar - the true successor to the legendary McLaren F1.
We also get to talk to the man behind the car – and the new car brand – Gordon Murray Automotive. The team also reveal BMW's plans for an all-electric 5 Series, likely to be called the i5, while deputy editor John McIlroy goes for a drive in the new Honda e and falls in love.
Plus news of Mitsubishi's withdrawal from the European car market, plus more news and your questions answered.
You can download or stream the episode now on all good podcast players, or listen to any of our latest shows below. Make sure you leave us a rating and a review, and stay tuned for regular updates by following the show on Twitter under the handle @AutoExpress. Got a question for the team? Just use the hashtag #AEpod and we could answer it on the podcast!
You can email us too: drop us a line via pod@autoexpress.co.uk.
Fasten your seat belts and put the pedal to the metal: listen to the Auto Express Podcast now!
Subscribe to the Auto Express Podcast now!