Vredestein Ultrac review
An excellent wet-weather performer, particularly in severe conditions, and effective in the dry. Fuel economy needs improvement, however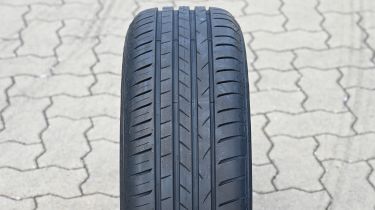 We first tested the Ultrac in 17-inch form shortly after its 2021 launch, when it finished third. It couldn't repeat that podium success this time around, but it was close to the front of the group chasing the stellar PremiumContact 7. 
There's still lots to like about the Ultrac, which marked a return to form in our tests from this previous winning maker. A big increase in silica and resins in the compound over its predecessor could be seen in the wet, where it was next best across all five tests behind the Continental. 
And it delivered in both shallow and deep water, with a complete lockout in the latter. It was third round the wet circle and runner-up for handling. It carried more speed into turns than most rivals without sliding and gave good traction on the way out. Despite the strong front, the rear was stable, indicating good balance. The only blot was an eighth for braking, where it needed just under two metres more than the winner. It was within a metre of the best of the rest, though.
It was fifth overall in the dry, but the noisiest on test. The elephant in the room is fuel economy, where it was the thirstiest, using around six per cent more than the Bridgestone and about three per cent more than the best of the rest.
Blackcircles.com says...
"Customers rate the tyre well, with a score of 4.5/5. Feedback focuses on the good grip and handling in all weather conditions and the value for money."
Results
| | | |
| --- | --- | --- |
| Vredestein Ultrac |   |   |
| Overall | 98.5% |   |
| Price | £90.80 |   |
| Wet braking | 92.6% | 8th |
| Wet handling | 99.4% | 2nd |
| Wet cornering | 99.5% | =3rd |
| Curved aquaplaning | 100% | 1st |
| Straight aquaplaning | 100% | 1st |
| Dry braking | 96.4% | 7th |
| Dry handling | 99.5% | 3rd |
| Cabin noise | 98.1% | 11th |
| Rolling resistance | 67.7% | 11th |