New Renault Trafic on sale this summer
Sketches give a taste of what we can expect from the new Renault Trafic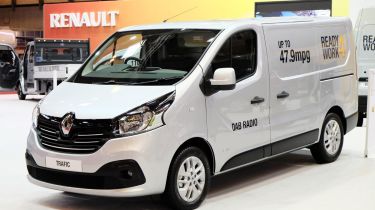 Renault hopes a new version of the Renault Trafic van will help them keep their strong grip on the business van market. 1.6 million units of the outgoing van have already been sold throughout its 34-year history and this new Trafic is part of Renault's plan to refresh its brand identity.
• New, British-built Vauxhall Vivaro van on sale this summer
The new third-generation Renault Trafic shares a platform with the forthcoming new Vauxhall Vivaro and aims to deliver business customers a practical all-round mid-sized panel van. The Vauxhall Vivaro sold 44,000 units in 2013 but its Trafic sister vehicle traditionally lags a little behind.
Updated Renault Trafic design
A bold new design and updated technology, boosted by Renault's Formula 1 expertise, could give the Renault Trafic a needed edge in the panel van sector.
The new model hasn't been unveiled in the metal yet, but preview sketches show that it has much more presence than the older, boxier Renault Trafic. Slimmer headlights, a bolder grille and a curved front certainly give it a sleeker shape.
Kihyun Jung, the new Renault Trafic's designer said: "Its lines embody Renault's new brand identity. My aim was to achieve a dynamic, assertive stance without sacrificing either the robustness or user-friendliness customers expect of their van."
Not much else has been revealed about the new Renault Trafic. If it's anything like the current range's most basic model, though, it will probably have a four-cylinder two-litre diesel engine at the core of the range. In addition, the outgoing Renault Trafic comes with a six-speed manual gearbox, Bluetooth/USB connectivity, 16-inch wheels and starts from just over £15,000.
• New
Ford Transit
van review
• New, British-built Vauxhall Vivaro van on sale this summer