Rolls-Royce Celestial Phantom debuts at Frankfurt
Rolls-Royce Celestial Phantom showcases bespoke design at Frankfurt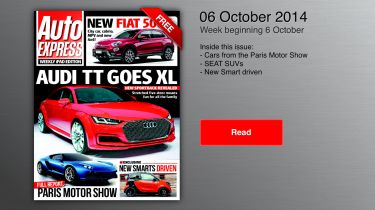 Rolls-Royce has unveiled the Celestial Phantom at the Frankfurt Motor Show 2013, celebrating a decade since the first Phantom emerged from the manufacturing plant.
The one-off motor car has an exterior colour scheme that evokes the night sky - integrating fine glass particles into the paint to achieve an alluring sense of depth and light. The theme continues when one opens the coach doors of this very special Phantom Extended Wheelbase.
"This highly Bespoke luxury motor car is the perfect way for us to celebrate our first decade of production at the Home of Rolls-Royce in Goodwood, England. The peerless design and craftsmanship employed in creating these one-of-a-kind masterpieces ensures the marque's rightful place as purveyor of the very finest luxury goods in the world," said Torsten Muller-Otvos.
• Rolls-Royce news and reviews
The inside of the Celestial Phantom replicates the night sky, with over a thousand fibre optic lights hand-woven into its headlining. Meanwhile, the finest leathers, presented in a 'Dusk' hue contribute to the overall quality of the cloudless night sky.
Apart from the special paint and the LED night sky roof the Celestial also gets unique headlights, new white back dials and a reskinned dashboard too. The driver and passengers are separated by a thick perspex screen and have an intercom so they can choose when they want to speak to their driver. The rear seats are more heavily reclined than the standard car so that you stare up into that new roof lining and it feels just as special as the original car even after ten years on sale.
The attention-to-detail and restless striving for perfection, so intrinsic to the Rolls-Royce brand promise, is evident throughout. The night-sky constellation arrangement was verified by the South Downs Planetarium to ensure authenticity, whilst the reflection of the 'stars' in the surface of the rear drinks compartment lid was meticulously planned and designed. Hand-stitching to the headliner also subtly maps out the constellations.
Rolls-Royce Phantom designer, Giles Taylor, said: "The Phantom dropped from the sky like a monolith and I think the design has really come of age ten years on. Looking at it now it is more attractive than ever so the redesign is going to be a real challenge. We either have to add a few details and keep it subtle or go in a completely different direction - and at the moment we are making that decision.
Taylor continues: "Of course we take the challenge of a Mercedes-Benz Pullman seriously. That is a company with a great strength in engineering and despite the price difference we know they appeal to the same kind of customer we do. I think we offer buyers something very different - but that doesn't mean we can ignore these rivals."