SEAT Leon Cupra 2014 video review
Can the powerful new SEAT Leon Cupra 280 hot hatch beat the evergreen Golf GTI?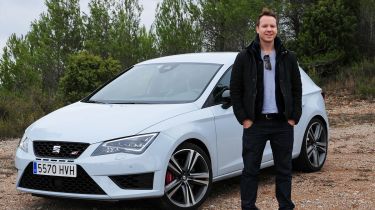 This new SEAT Leon Cupra should be very good indeed: it's based on our 2013 Car of the Year and it shares similar mechanicals to the Volkswagen Golf GTI, one of our top hot hatchbacks.
So what do we know about the SEAT Leon Cupra? Well the first thing is that you can get a whole range of different models.
The entry-level version is a 3-door with a manual gearbox and 261bhp, or you can get a 3 and a 5 door with a manual or 6-speed DSG with 276bhp.
All versions are front wheel drive but do come with a limited slip differential and adaptive dampers as standard - both those things are optional on the Golf GTI.
The styling is actually quite restrained for something this fast. There's a deeper front bumper, full LED headlights, 19-inch wheels on the 280 models and around the back, 2 oval exhausts. When the standard car looks so good the great design is hardly surprising.
It's certainly classy inside, too - you get all the same high-quality switchgear that you would in the standard Leon but with a few little extras to make it feel a bit more special. The first is a flat-bottomed steering wheel, plus there's figure-hugging sports seats and a few Cupra badges sprinkled around.
What you really want to know is what's this thing like to drive - well, it's a lot of fun. The steering is quite light but really sharp. You can feel the limited slip differential shuffling the power to the outside wheel on tight turns and slingshotting you out the other side.
The engine? Well it's really smooth and sounds great. It doesn't quite have the grunt of the four-wheel-drive VW Golf R but it's very quick nonetheless.
SEAT is dropping hints that this car could even be the fastest front-wheel drive hatch ever to drive around the Nurburgring. We're going to find out for definite at the Geneva Motor Show.
The Leon Cupra has always been a bit of a bit player in the hot hatch game, but believe me that's about to change.
Not only does this car look great, it drives brilliantly too and represents excellent value. You get the front differential and the adaptive dampers as standard and you get a lot more power than a Golf GTI but despite that it only costs around £500 more than the GTI, model for model.
Whichever way you look at it, that makes it a bit of a performance bargain.