Plans for new Skoda Fabia Estate cancelled as Czech firms focuses on EVs
Skoda's increasing range of electric cars and CO2 regulations appears to have killed off plans for the Fabia Combi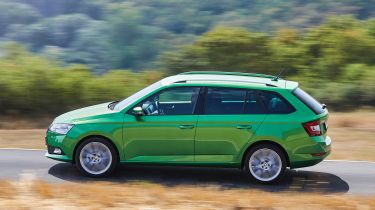 The new Skoda Fabia supermini will be available as only a five-door hatchback, because plans for an estate version have been cancelled.
In March 2021, Skoda CEO Thomas Schaefer told Auto Express that the brand would introduce a new Fabia Combi in 2023, which would be built in the Czech Republic at Skoda's Kvasiny facility.
Now, a statement from the brand confirms that while the estate version of the third-generation Fabia is still in stock and UK orders are still being taken on Skoda's configurator, no successor will follow, citing ever-stricter CO2 regulations and the fact it has three new EVs planned by 2030, as the main drivers of the cancellation.
"The European Commission's recent decision to reduce the EU's greenhouse gas emissions by 55% by 2030 is accelerating the transformation from the internal combustion engine to the e-car," said Skoda.
"However, this also means we will be discontinuing some ICE products more quickly, particularly against the backdrop of increasingly stringent emissions legislation in Europe (Euro 7), compliance with which is associated with very high costs. Following this decision, there will be no successor to the Fabia estate."
Estate cars the size of the Fabia Combi are now all but extinct in the UK, with rivals such as the SEAT Ibiza ST and Dacia Logan MCV now both off sale.
We find out what Skoda vRS means and how the performance brand has changed over the years...