Tesla 'Model D' is a 4x4 Model S, P85D version is world's fastest 4-door
Tesla's Elon Musk has finally revealed the Model D to the public, and it isn't quite what we expected. There's also new autonomous tech.
The CEO of Tesla, Elon Musk has finally put an end to rumours of what the much-anticipated 'Model D' might be. We now know that the 'D' isn't a new Tesla model at all but stands for dual-motor, meaning that the current Model S will now be available with four-wheel drive.
There will also be a super-fast P85D, dual-motor four-wheel drive version of the Model S which will have a faintly astonishing 682bhp and 930Nm of torque. It's set to be the fastest accelerating four-door production car ever.
This means a 0-62 time of just 3.2 seconds, a full second quicker than the current Model S. It also manages 1g of lateral acceleration. Musk himself calls it 'insane'.
The P85D is also limited to 155mph (vs 130mph for the standard P85), and it can do the standing quarter-mile in 11.8 seconds. This is despite it weighing almost two-and-a-quarter tonnes with the new motors. It also has 50.50 weight distribution.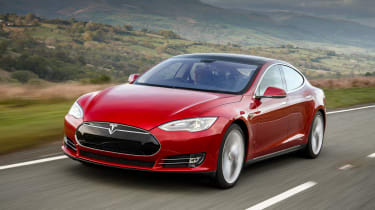 The standard Model S 60D is capable of 125mph, an increase of 5mph, and the 85D with the bigger battery pack can manage 155mph. Amazingly, the four-wheel drive models are claimed to have an even longer range than the standard ones.
The 60D and 85D both have an extra 10 miles of range, at 225 miles and 295 miles respectively. The P85D can manage 275 miles on a charge.
Tesla Model S D 4x4 range: UK prices
Both models are available to order in the UK today, with deliveries expected in Spring 2015. Prices aren't yet announced for UK models but we know that in the US the four-wheel drive update to the Model S will be $4,000 (£2,500) more than standard, and the faster P85D is $14,600 (£9,100) extra.
Tesla Autopilot announced
But Musk's initial tweet about the model 'D' also mentioned a 'something else'. And at a glitzy launch party in the US last night, that something else turned out to be the letter 'A', standing for a new type of autonomous driving.
Dubbed 'Autopilot' by Tesla, the system will enable the Model S to park itself with no intervention from the driver, as well as drive itself up to where you are waiting (on private property) like a valet service. The advanced system, which uses GPS and sonar, could effectively drive itself around, but Musk points out that safety regulations are not in place to allow this.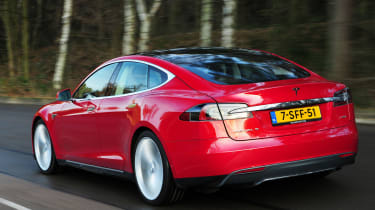 The Autopilot system has, surprisingly, been in production for the last two weeks, meaning that any Model S that's ordered from today in the UK will receive the technology. However, Tesla have conformed to us that a software update will be required before the tech can be fully utilised.
The charismatic Tesla CEO mentioned the system could be adapted to find a charging place for itself, although no details of when that would happen have been mentioned.
Key Tesla Model S 'D' Specs
Powertrain
60D and 85D: 370bhp and 490Nm (185bhp and 245Nm front motor, 185bhp and 245Nm rear motor) from a 60kwh (60D) and 85kwh (85D) battery.P85D: 682bhp and 930Nm (217bhp and 330Nm front motor, 463bhp and 600Nm rear motor) from an 85kwh battery.
Weight
60D: 2085kg (80kg over 2WD 60)85D: 2188kg (80kg over 2WD 85)P85D: 2239kg (132kg over 2WD P85)
Performance
60D: 0-60mph in 5.7 seconds (vs 5.9 for 2WD), 125mph, QM in 14 seconds 85D: 0-60mph in 5.2 seconds (vs 5.4 for 2WD), 155mph, QM in 13.5 secondsP85D: 0-60mph in 3.2 seconds (vs 4.2 for 2WD), 155mph, QM in 11.8 seconds
Range
60D: 225 miles85D: 295 milesP85D: 275 miles
What do you think of this latest announcement from Tesla? What will the maverick electric car brand do next? Let us know in the comments section below...