Toyota Hilux Tonka Concept is the ultimate off-road toy
One-off, heavy duty Hilux dusted down with Tonka inspiration to celebrate pick-up's top sales in Australia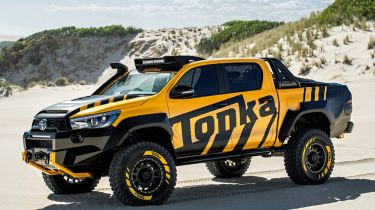 Toyota has teamed up with iconic toy maker Tonka to create a new one-off Hilux pick-up truck, described as a "full-size dream toy for adults".
Called the Hilux Tonka Concept, it's a modified, high-riding off-roader created by designers and engineers from Toyota's Australian division, built to celebrate the tough Toyota becoming Australia's best-selling vehicle in 2016.
• Best pick-up trucks on sale 2017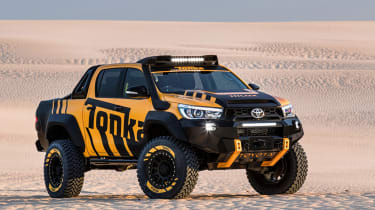 As the name suggests, Toyota has used Tonka truck toys as inspiration for the big rock-crawler.
Under the Tonka skin it's a range-topping, double-cab SR5 model, fitted with a 2.8-litre four-cylinder turbo-diesel engine producing 175bhp. The makeover begins by jacking the ride height up by 150mm and fitting heavy-duty off-road suspension and huge knobbly tyres, 35 inches in diameter.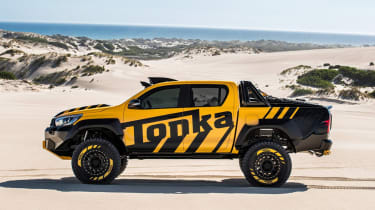 The front end of the car gains a new bull-bar arrangement plus a heavy-duty sump guard, 6mm in thickness. A new bonnet with a large power-bulge makes the Hilux Tonka appear even more imposing, alongside a large snorkel and an LED light bar on the roof.
Chunky wheel-arches are fitted on the sides, and around the back the Hilux Tonka gains a carbon-fibre tailgate, incorporating a spoiler and new air vents.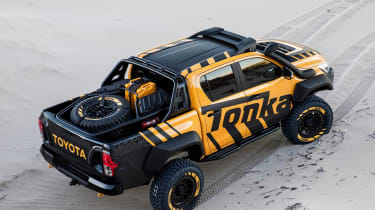 The pick-up tub itself is kitted with a tubular frame to keep gear such as fuel cans in place, while a fire extinguisher, shovels and an axe are also fitted. Unsurprisingly, the Hilux Tonka isn't destined for production, and will instead be used as a show car around off-road events and expositions around Australia.
What do you think of the Hilux Tonka Concept? Let us know in the comments below!