Choosing the right van for your needs
We round up some of the many options that are available to you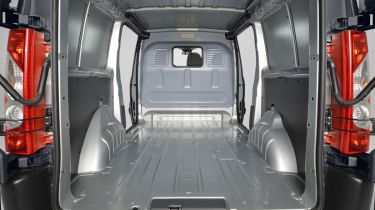 If you're on the lookout to buy a van, in all likelihood it's going to have to work hard for its living, so you need to be sure that you tailor it to your exact needs.
Fortunately, there are so many different body types available, as well as a hugely varied range of options with which to kit it out, that customising your van should be easy.
Van body types
Whatever you need your van for, it's likely that there'll be a bodystyle to suit you. Most versions will be available directly from commercial vehicle dealers, even if they're technically aftermarket conversions; although the most specialist bodies might have to be bought elsewhere.
• Van accessories: choosing the right extras for your van
Panel vans
This is by far the most common - and most versatile - type of van body. Essentially, a panel van is defined by its flat, enclosed load bay, often with blanked out 'window' sections (the panels of the name) on the sides of the load area.
Almost all sizes and models of van are available as panel vans, and most full-size vans are offered in a variety of wheelbase lengths, extra-height versions and rear-overhang extensions.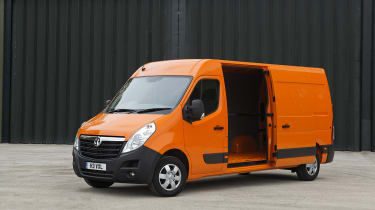 Luton bodies and box vans
For those needing to carry more bulky items, a box van or a Luton van could be the ideal solution. These generally involve a basic chassis-and-cab set-up, with a tall 'cube' of a cargo bay. A Luton van has an extended cargo area above the cab, while a box van's load area reaches no further forward than the cab's trailing edge.
These are generally wider than a panel van, with no intrusions into the load bay floor from wheelarches or suspension components. This does mean, however, that access to the rear is higher off the ground. It's also unusual to find box vans or Lutons with side doors, and there is generally no direct access available between the load area and cab unit.
Flatbeds or pick-ups
These are similar in concept to a box van; the difference being that a flat, open-air load bed is fitted instead of an enclosed cargo area. If you don't need the security or weather protection of a panel or box van, these have the advantages of being light, cheap and flexible.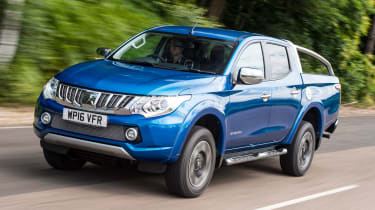 Double cabs
If you need a van that's capable of carrying more than two or three occupants, then you should consider a double-cab model – sometimes called a crew cab. These are vans with extended cabins to allow for an extra row of seats. Pick-ups, flatbeds, panels vans and box vans are all available with double cabs.
In your van's cabin
Seats
Smaller vans will generally only include a driver's seat and room for one passenger, while larger vans might offer room for three. If you need to fit more than three people in the vehicle, you'll have to go for a double-cab or crew-cab model, which will offer a second row of passenger seats.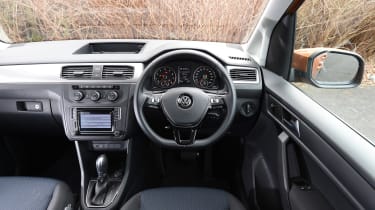 Equipment
Basic vans generally offer plenty of storage space for drinks, tools, maps and portable sat-navs as standard, but if you want more kit you'll need to look at the manufacturer's list of optional extras. Here you're likely to find sat-nav, digital radio, Bluetooth connectivity and even leather trim.
In your van's load bay
Steps/access
Depending on the body style that you opt for, several types of steps could be available. Panel vans often feature a lowered floor around the rear doors or sliding side doors, while extra steps can also be added to bumpers or side sills.
Partnership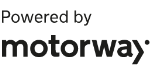 Need to sell your car?
Find your best offer from over 5,000+ dealers. It's that easy.
On flatbed pick-ups or box vans, a powered tail lift can be a useful addition, as the load areas tend to be higher off the ground. The cheapest option for flatbeds, however, is droppable sides. These are secured with latches and can simply be flipped down to allow you to slide goods on and off more easily.
Linings
You may be satisfied with just the bare metal interior of your van's load area, but it can be easily damaged, as could whatever you're carrying in the van. The most common solution is a hard-wearing rubber or plastic floor, combined with a plywood interior lining for the walls and doors. These can be fitted by a dealer, or at a later date.
For extra-heavy use, metal chequer plates are worth considering, too.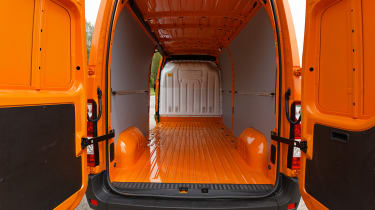 Bulkheads and other fittings
If you're hauling heavy pieces of equipment that could slide around in transit, then you should choose a van with a solid bulkhead: a partition between the cab area and load bay in a panel van.
These can be solid metal from floor to roof, half-height (useful in shorter vans, as you can store items through the entire length of the vehicle) or with glass, Perspex or mesh to enable you to see into the load area from the cab.
Other useful items to consider for the luggage areas of your van are securing rings and interior lights.
Outside your van
Locks and latches
We've detailed your options for aftermarket locks in our article on van security, but when selecting your van you should think about the standard level of security that it offers. Do you want remote central locking? Does the van that you have your eye on have a separate locking mechanism for the rear doors and cab, or are they operated via one key or remote fob?
Doors
Doors might seem to be a one-dimensional subject, but there's such a variety of possible options that it's worth thinking carefully about what you need. Do you require a sliding door? If so, on which side? Do you need two? If you do, check to see whether they can be opened from both outside and inside.
Depending on the make or type of van, at the rear you can get twin rear doors, a rear hatch or even roller shutters.
How to pay for your van
Once you've decided on your van you need to work out how you're going to pay for it.
The most straightforward method is to simply pay for the vehicle up front and in full. This has the advantage of giving you full control, as the van is entirely yours to do with as you wish, but it also means you will have to go through the hassle of selling the vehicle on when it's time for a replacement.
You may not have sufficient cash to take this route, however, so a common alternative is to take out some sort of finance on the van. This is usually either a lease agreement, contract hire or a personal contract purchase (pcp).
With all these, you pay a fixed monthly sum for an agreed length of time. The main differences are that with a lease agreement you return the van to the finance company at the end of the term, whereas with hire purchase  you  pay a lump sum at the end of the agreement and take full ownership of the vehicle. With PCP, you have the choice if either handing the can back or paying a final lump sum.
van Insurance
Getting the right van insurance cover for your needs is also key. And don't automatically go for the cheapest option unless you've looked carefully to ensure the policy covers you for everything you'll be using your van for.
For instance, you must decide whether you want private, sole trader or business cover. You should also carefully go through your policy and check it covers your business needs. Are you covered for personal use? Who's insured to drive the vehicle? Are tools or stock covered in the policy?
Other issues to consider with your van insurance is whether it covers you for legal expenses in the event of a claim by a third party, or whether you get breakdown cover included – if not, it might be worth bolting either of these on.
What are your top van-buying tips? Let us know in the comments section...