Shock figures reveal one in five vans fails its first MoT
The majority of van MoT failures are down to poor maintenance and rough treatment on the part of businesses and drivers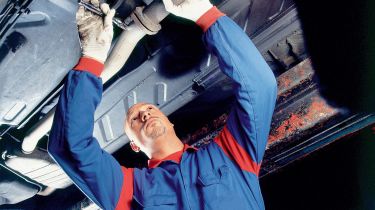 Half of all vans in Great Britain failed their MoT test last year, while an Auto Express investigation found nearly one in five new vans failed its first MoT after three years.
Latest figures from the Driver and Vehicle Standards Agency (DVSA) show nearly a third of van MoT failures came from faulty lights and signals, while brake and suspension troubles contributed to another 40 per cent. Dodgy tyres and faulty mirrors resulted in five and seven per cent of MoT fails respectively. Plus, vans taking their first MoT test after three years are twice as likely to fail than equivalent cars. On average, 18 per cent of vans fail their first MoT, compared to just nine per cent of cars.
• 15% of MoT verdicts are wrong
Our research also found vans failing their first MoT had covered an average of 77,796 miles; that's twice the average mileage of a car failing in the same time period. It's also 10,000 miles more than the average mileage for vans that pass their first MoT.
High mileage may also explain why 49 per cent of all vans failed an MoT last year, as the average mileage for a van failing an MoT, regardless of age, was 123,354 miles. Once again, that was 10,000 miles more than for vans that passed the test.
A DVSA spokeswoman told Auto Express: "We have identified the trend in high failure rate for vans for a number of years. This is generally because of a combination of the heavy use and a lack of attention to maintenance.
• Website lets you check car mileage and MoT history
"DVSA has responded through a combination of enforcement activities at the roadside, and ensuring educational information is available to van users.
"The results at MoT are reflected in what we find at roadside checks, where vehicles are frequently prohibited for overloading, faulty brakes, faulty lights and indicators, and faulty tyres and exhausts.
"In most cases, the driver would have been able to identify these faults from the handling of the vehicle or if they'd carried out a walk-around check, and we have published advice to that effect."
Has your van ever failed an MoT before? Tell us why in the comments below...