Volvo C40 and XC40 Recharge updated with new battery tech
The mid-size all-electric Volvo XC40 SUV gets better battery and powertrain technology for a useful range boost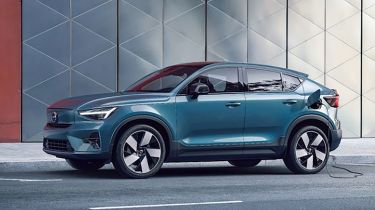 The Volvo XC40 Recharge and C40 Recharge have been updated with new battery technology and drivetrains. Announced in December 2022, Volvo has now revised initial performance expectations, confirming new, longer ranges for both models. 
Volvo's tweaks apply to every XC40 and C40 Recharge model and starting with the entry-level XC40 Recharge single-motor (which has received a price increase to £46,505) there's now 290 miles of range available - up 26 miles on the old model. The £48,355 C40 Recharge also gets a bump in range from 272 to 297 miles.
This extra range boost has been achieved with the switch from front-wheel drive to rear-wheel drive, says Volvo, and power has also improved from 228bhp to 235bhp. Efficiency figures for the single-motor XC40 Recharge now sit at up to 3.7miles per kWh. 
The dual-motor XC40 and C40 gain extra range and power too. The £58,380 XC40 Recharge Twin now offers 334 miles of range (up from 270 miles) and its coupe-SUV variant - the C40 Recharge Twin now comes with 342 miles (up from 278 miles).
Although the regular single-motor XC40 and C40 Recharge retain the same 67kWh battery, the dual-motor variants now have a larger 79kWh usable unit (up from 75kWh). Four-wheel drive has been retained but the system has been tweaked to provide 161bhp at the front and 242bhp at the rear (this is down on the old car's 201bhp on both axles, but the overall 402bhp combined output remains the same). 
The Twin versions also get a faster maximum charging rate of 200kW, up from 150kW. This means the 10-80 per cent battery recharge time drops from 37 minutes to 27 minutes. The single-motor models have the same 27-minute recharging time as before. 
Volvo's updated XC40 and C40 Recharge models are available to order now with deliveries expected in the second half of 2023.
Check out our guide to the best electric SUVs on sale today...