Volvo announces autonomous Ride Pilot system for all-new XC90
This year's electric XC90 flagship will be equipped with unsupervised autonomous driving tech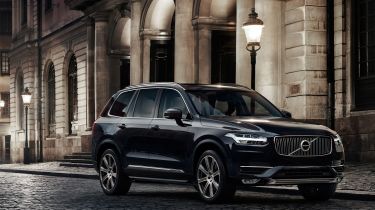 Volvo is readying an all-new, electric XC90 flagship SUV for launch later this year, and the new model will be fitted with an unsupervised autonomous driving function called Ride Pilot. 
The system is currently undergoing testing, and with the necessary government and safety approvals, will allow drivers to read a book or rest while the car drives to its destination. The company says that when autonomous driving is enabled, "Volvo Cars takes responsibility for the driving, offering the driver comfort and peace of mind".
The Ride Pilot software is being developed in conjunction with autonomous driving software experts Zenseact, along with sensor company Luminar. The new XC90 will be fitted with an array of sensors to enable self-driving, with five radars, eight cameras and 16 ultrasonic sensors, and consistent over-the-air updates will improve Ride Pilot over time.
Volvo stresses that it will launch Ride Pilot only once it has verified its safety through extensive testing, and after securing the required approvals. Once this has been achieved, the firm plans to release Ride Pilot in California first, where traffic conditions and government regulations are favourable towards self-driving cars. Ride Pilot will be introduced to other markets later.  
The system is being tested on Swedish roads, and data is being collected from Volvos across the US and Europe to facilitate its development.
When it arrives later this year, the new XC90 will be available in either fully electric or hybrid petrol guises, riding on the marque's next-generation SPA2 platform. We expect the new car to adopt an evolutionary design over the current model, and Volvo CEO Hakan Samuelsson previously told Auto Express that a cost of "around €10,000 is not unrealistic" for the XC90's autonomous driving option.
Check out the best plug-in hybrids to buy now...