Goodyear EfficientGrip Performance review
It may have dropped a few places, but this remains a good performer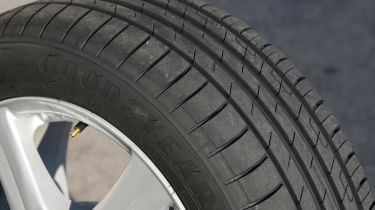 It may have dropped a few places, but this remains a good performer
The Goodyear was second in our 2014 test of this size, and is beaten here only by the winning Dunlop, newer tyres and the remarkable Continental. Just as in the test in Spain three years ago, its success was built on solid rolling resistance and cabin noise performance. The EfficientGrip was just pipped by its stablemate Dunlop which suggests that, again, engineers have found something when it comes to combining fuel economy and grip in the wet.
Elsewhere, there was a string of solid results not too far from the winners. In dry handling the Goodyear was under a second off the best, while its braking was less than three metres shy. It feels soft as it's pushed on dry roads, lacking the Continental and Hankook's sharpness, but it hangs on well.
The Goodyear was better suited to the deep water of the aquaplaning tests, where it was an impressive second in a straight line and sixth on the curve, not too far from the front runners. It had good balance around the wet handling track, although it required more lock than the best. The front takes a while to hook up in longer turns, which may be behind its relatively poor showing on the skid pan.
Buy the Goodyear EfficientGrip Performance tyre from Black Circles here
| | | |
| --- | --- | --- |
| Price | £61.32 | |
| Dry handling | 98.40% | =7th |
| Dry braking | 89.00% | 7th |
| Wet handling | 95.60% | =5th |
| Wet braking | 83.80% | 7th |
| Wet cornering | 89.70% | 9th |
| Straight aqua | 97.90% | 2nd |
| Curved aqua | 87.80% | 6th |
| Rolling resistance | 92.10% | 3rd |
| Cabin noise | 100% | 1st |
| Overall | 97.20% | 6th |