Toyo Celsius tyre review
Overall score: 96.4%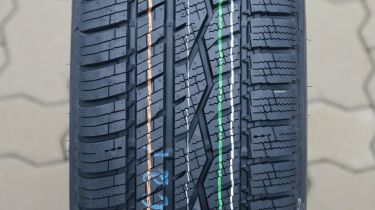 We say: Happiest on snow, but the Toyo was generally a step behind the best. Blackcircles.com says: "Slightly less well known on this side of the Atlantic, the Celsius perhaps needs more work before it's pushed further in the UK."
If the Kumho had a definite snow focus, that could not be seen with the Toyo Celsius, which sat in the middle of the pack on the white stuff and closely matched the summer-orientated Michelin CrossClimate +.
While the Toyo had the measure of rivals Hankook and Falken, it was close on the snow tests. And the maker hasn't sacrificed this to boost wet grip; across our increased number of wet tests it topped only the struggling Kumho.
It was close to the best in the straight aquaplaning assessment, but wasn't so good when the asymmetric tread was distorted in the curved test. The lack of grip in the wet could be felt on the handling circuit, where care was needed on entry speed as it pushed wide readily. We also had to wait to get on the throttle to avoid wheelspin.
It felt sharper in the dry with good steering and grip that lasts longer than some. Plus, if you want a quiet tyre this is the one to go for.
Buy the Toyo Celsius fro Black Circles
| | | |
| --- | --- | --- |
| Price | £68 | |
| Snow braking | 93.30% | 4th |
| Snow traction | 89.90% | 4th |
| Snow circle | 93.40% | 8th |
| Snow handling | 95.60% | 5th |
| Straight aquaplaning | 95.20% | 5th |
| Curved aquaplaning | 77.40% | 5th |
| Wet braking under 7˚ | 87.10% | 6th |
| Wet braking over 7˚ | 89.00% | 6th |
| Wet handling under 7˚ | 95.00% | 6th= |
| Wet handling over 7˚ | 96.30% | 6th |
| Wet circle | 94.40% | 8th |
| Dry braking | 87.60% | 8th |
| Dry handling | 98.30% | 4th |
| Rolling resistance | 81.70% | 8th |
| Cabin noise | 100% | 1st |