Locking wheel bolts
Which locking wheel bolts will keep thieves at bay? We name the sets you can rely on from eight of the latest offerings...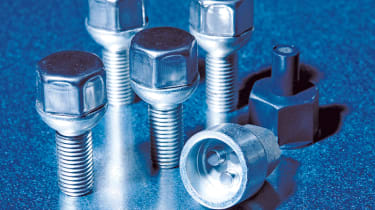 You don't need the biggest, shiniest wheels in town to catch the attention of thieves - because there's a ready market among the criminal fraternity for all types of rims. Even steel wheels are not safe, as the tyres alone could make them attractive to crooks.
With wheel and tyre combinations often costing more than £1,000, it really pays to protect your rims. There are plenty of locking bolts and nuts on the market, but which are the best? We attacked eight to find out.
The test
Vehicle security expert Giles Verdon attempted to remove the bolts from a Volkswagen Golf MkIV as quickly as possible. Time and noise are the thief's biggest enemies, so top marks went to those products which required most of each to get off. We also looked at how easy it was to make a master key, and checked build quality by tightening each to well over the recommended torque.
Verdict
Our choice comes down to the McGard Ultra and Evo MKV yet again - both would stave off all but the most determined thief. Picking a winner from these two products doesn't get any easier, though, and in the end it was the few pounds' difference in price that clinched the victory for the McGard. Whichever you go for, protection at less than £10 per wheel is a real bargain.
1. McGard Ultra 2. Evo MKV 3. McGard Standard