Power pack test
Which booster pack is the best to keep in your boot? We test 12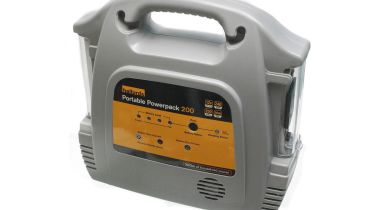 A booster pack is fast becoming a motoring must-have, whether you're firing up your dead vehicle after two weeks in the airport car park or just chilling drinks in a powered cooler. Add a built-in light for night-time breakdowns and a compressor for tyres, airbeds and inflatable toys, and they look good value, too.
As they're light and compact, and use the latest 12V technology, they are equally at home in the workshop or boot. Compact Absorbent Glass Matt batteries pack a real punch for starting, yet need only small top-up charges every month or so. But which is the best product for you? We put a dozen through their paces to find out.
The test
First we saw how each power pack fared cranking over a 1.8-litre petrol engine. We looked for decent-length leads and quality compact clamps. A manual isolator switch, or auto sensing current control, is a safety must-have. Extras such as compressors, lights and inverters were factored against the all-important price.
Verdict
The Halfords Power Pack 200 combines excellent performance with an impressive list of features and a competitive price. It's an unbeatable all-rounder, and a worthy winner here. Close on its heels is the Clarke Jumpstart 910. Although it's been on the market for a long time, it's still one of the best to use and offers a big punch. SIP's Rescue Pac is a brilliantly thought out design in many ways. But short leads don't help connection, and push it down to third place.
Contacts Halfords, 0845 7626625, www.halfords.com RAC (Argos), 0870 600 3030, www.argos.co.uk Polco, 01980 676400, www.caeurope.co.uk Black & Decker, 01753, www.blackanddecker.co.uk Ring, 0113 213 2000, www.rinautomotive.co.uk Challenge (Argos), 0870 600 3030, www.argos.co.uk Clarke, 01992 565300, www.clarkeinternatinal.com Draper, 023 8049 4333, www.draper.co.uk SIP, 01509 500300, www.sip-group.com