Zipcar hire scheme
The range-extending Vauxhall Ampera is now available to hire via Zipcar. We test it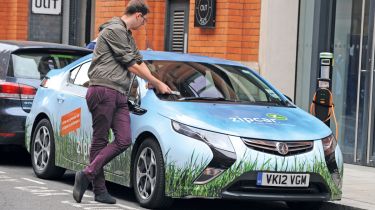 Price: £59.50 a year membership; £5-£6 an hour to hire car
Contact: www.zipcar.co.uk
Zipcar lets you hire a car via your iPhone – and the company is the first in the UK to offer Vauxhall's new range-extending electric car, the Ampera. We tried it for a week.
We registered without a hitch at www.zipcar.co.uk. Your Zipcard (to unlock the car) then arrives via Royal Mail. Or, simpler still, you can use your iPhone. Finding a car is easy using the app, and you can book once you've saved your details to your phone. But availability was an issue, with only one of the 10 Amperas free to hire when we tested the scheme.
Conventional cars get 40 free miles of fuel, and you don't need to pay for congestion charging or ownership costs. Zipcar just asks that you leave a quarter of a tank of fuel in when you're done.
At our pick-up point, we tapped the unlock button on the iPhone's screen to open the doors; holding your Zipcard to the sensor on the windscreen has the same effect.
The ignition key was in the glovebox, with a guide in the door pocket telling you what to do. To charge the batteries for free, though, you need to take the car back to where you picked it up.
Currently, you can only hire an Ampera in London, and it's pricey – at £6-£8 per hour instead of £5-£6 per hour for a conventional car, on top of the £59.50 a year membership fee. Late returns incur a penalty charge of £35.
Verdict
Rating: ★★★★What's good? iPhone app is easy to use, and you don't pay for road tax, insurance, congestion charge or fuel.Not so good? High late fees. There are only 10 Amperas, and all in London. Have to return to pick-up spot to charge.