In-car vacuum cleaner mini test
We test the new in-car vacuum cleaner from Dyson to find out how it compares to our current best buy
Cleaning up crumbs in your car is simple with a dedicated vacuum cleaner. There's no need to drag the household vac to your driveway, as the latest handhelds are small enough to be left in the boot for use away from the mains.
Dyson's updated Animal DC34 has a motorised brush head for picking up pet hair, plus its digital motor claims to spin five times faster than an F1 engine. We put it up against our current favourite: the Halfords 12V Car Vacuum.
Our road test team loves these vacs, and we tested them on cars ahead of a photoshoot. We used them to shift dog hairs from the boot, biscuit crumbs from the driver's seat and muck from the footwell. Plus, we counted the attachments included and rated suction over a section of carpet. Price was also a factor.
The Dyson's suction is second to none, plus it's easy to empty. Battery life is limited, though, and it's just too pricey. So the Halfords is still best for clearing up on the go. Unlike the Dyson, it's not cordless, but there's a long 12-volt cable and it also has three attachments.
Money no object: Dyson DC34 Animal
Price: £179.99
Rating:★★★★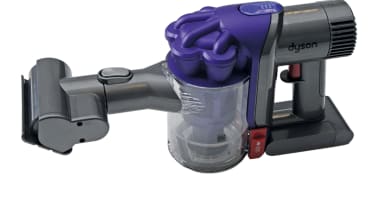 Best buy: Halfords 12V Car Vacuum
Price: £19.99
Rating:★★★★★