RGM Rearguards sill protectors
Price: Black £29.95-£49.95; Silver £34.95-£54.95 (plus £5.75 p&p) Rating: 3/5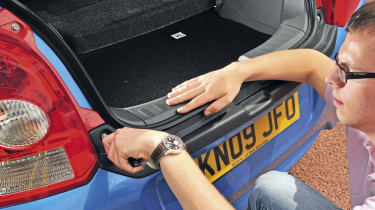 Whatever you carry in your car, from shopping to pets, the outer sill of the boot is prone to damage.
As with any scratches or blemishes on the surface, this can drastically reduce the vehicle's value – so it's worth investing in protection from a product like these Rearguards from RGM.
They're effectively car-specific moulds which fix in place – and when we fitted one to our Suzuki Alto long-term test car, the benefits were instant.
We tried the version finished in black, and it was barely noticeable once in position. You can attach it with stick-on patches or use the existing boltholes – we did the latter, which involved loosening the rear bumper.
Our only criticism is that the top of the load lip is often more likely to scratch than the lower area covered by the Rearguard.
But it still stayed firmly in place for the duration of the test, and resisted scratches from shopping bags and other items we loaded into our Alto's boot.
* Problems? Have to be replaced if you change car.
* So why buy? Keep marks off body, easy to apply, screw or stick down.