Clean your car for under £15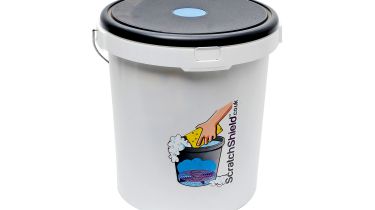 Before you stock up on cleaners, you'll need some cleaning kit to use them with. Washing is the first step, and for that you need a good bucket. These can be had for just a few pounds, but one we like is the ScratchShield (£8.99), which has a grille in the bottom to let grit fall through to avoid being picked up by a mitt or sponge. Our favourite mitt is the hugely absorbent Kent 2 in 1 Noodle Wash Mitt (£3.98).
The next step is to remove water after rinsing, so you will need a cloth or chamois leather. Our choice is a cloth – the Kent Extra Large Microfibre Drying Cloth (£3.95). Smaller microfibre cloths can also be used for buffing, cleaning and drying. Kent has a pack of three for £4.82.
What you'll need:
• Scratchshield (£8.99)
• Kent 2 in 1 Noodle Wash Mitt and Extra Large Microfibre Drying Cloth (£4.82)
Click the links below for other budgets
• Clean for car for under £15