Clean your car for under £100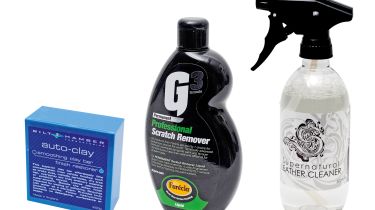 With the cleaning and protecting basics covered, it's time to go a bit further and improve the cleansing. And the first job after washing, rinsing and drying is to clay the paintwork.
This BluTack-like substance removes contaminants left after washing. You can check if it is required by slipping a finger in a plastic bag and running it over a horizontal panel. If it feels like sandpaper, it needs claying. The one to buy is Bilt Hamber auto-clay regular (£9.95).
Even after claying, the paint may still need treating to remove light scratches and swirls that can affect the shine. A colour restorer or scratch remover can revive the top coat. Our choice is Farecla G3 Professional Scratch Remover (£9.99). While some upholstery cleaners can also tackle leather, a specialist product is best, and our favourite is Dodo Juice Supernatural Leather Cleaner (£9.95).
What you'll need:
Items from under £15, £35 and £70 plus...
• Bilt Hamber auto-clay regular (£9.95)
• Farecla G3 Professional Scratch Remover (£9.99)
• Dodo Juice Leather Cleaner (£9.95)
Click the links below for other budgets
• Clean for car for under £100