Clean your car for under £140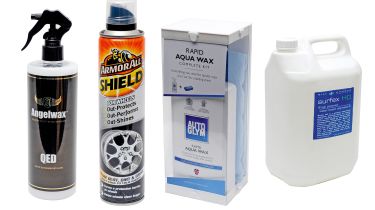 Making your car sparkle is never the work of a moment, but there are products which can speed up shifting the grime, or are good for quick spruce-ups. A detailing spray can remove light grime with just a wipe of a microfibre cloth, plus add a shine and some protection. Angelwax QED (£7.99) is our test winner.
If you have more time, you can apply a wax that goes on as you rinse or dry the car. The most effective of these is Autoglym Rapid Aqua Wax (£14.99) which goes on wet paintwork.
A wheel rim wax or sealant not only keeps the tyre grime at bay longer but also makes it easier to shift. The clear leader here is Armor All Shield for Wheels (£7.99).
If you're lucky enough to own one, the biggest factor in speedy cleaning is a pressure washer, and to make the most of it you need a specialist cleaner. Our choice is degreaser Surfex HD from Bilt Hamber (£9.95).
What you'll need:
Items from under £15, £35, £70 and £100 plus...
• Angelwax QED (£7.99)
• Armor All Shield for Wheels (£7.99)
• Autoglym Rapid Aqua Wax (£14.99)
• Bilt Hamber Surfex HD (£9.95)
Click the links below for other budgets
• Clean for car for under £140