SIP Pressure washer reviews
Tool maker SIP has launched a new range of petrol pressure washers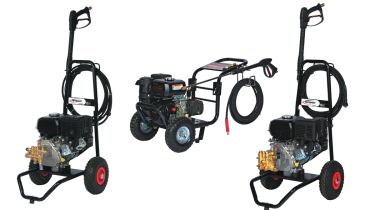 Now that hosepipe bans around the country have been lifted, motorists can enjoy the benefits of pressure washing their cars once again. And tool maker SIP has just launched a new range of high-end heavy-duty washers.
All four are powered by Kohler petrol engines, so you don't need to plug them into the mains. They're all mounted on trolleys, too, which makes cleaning easier.
The entry-level machine is the Tempest TP570/150WM (£570.39), which has a 7bhp engine and can go through 570 litres of water per hour. Next up is the Professional Tempest PP660/165WM (£803). Its 7bhp engine will work through 660 litres of water an hour and blast it out at 165bar pressure.
The Professional Tempest PP760/190WM (£794) is a smaller but equally powerful 165bar washer, while topping out the range is the Professional Tempest PP960/210WM, which costs £1,379. It boasts a 14bhp engine, so it can go through 960 litres per hour at 210bar.
All these washers come with a three-year engine warranty.
Price: £570.39-£1,379Contact: 01298 213 126, sipuk.co.uk