Steadicam Smoothee for iPhone
Smoothee uses weights and gyroscope to keep an iPhone steady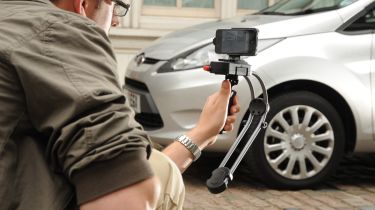 Ever thought of doing your own car reviews using your iPhone? The footage would probably be too shaky, but now Steadicam – the well known professional camera accessory maker – has launched Smoothee for iPhone. And we've been trying it out.
The contraption works like the full-sized Steadicams – using gyroscopes and counterweights to balance the iPhone mount. It holds your phone securely, too, thanks to a detachable case. Yet although the device isn't as bulky as we expected, it's still a pretty sizeable addition to your phone.
Once set up, we had mixed results with the Smoothee. It takes a while to figure out the best way to hold it in order to get full control – we struggled to tilt the camera's lens up and down.
However, it's great at panning and dealt well with wobbly hands. But we achieved similar results using image stabilising apps (available for less than £10). Another slight bugbear is that you can't use the Steadicam with your iPhone in portrait mode, but most filming is done in landscape mode anyway.
Then there's the price. As the Steadicam costs £170, we can't recommend it for casual users. Professionals will probably enjoy spending time with it and learning to use it, but this isn't a tool for casual users.