Proporta GripStick Dashboard Mount
New GripStick pad holds your phone securely in place while you're driving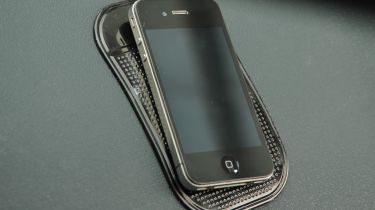 Not all cars have cubbyholes for your mobile. And those that do often offer no more than a small lip to stop your phone from sliding around.
That's why Proporta has launched its GripStick Dashboard Mount, and we've tried it out. The black pad isn't sophisticated, or particularly big. It's just a sticky mat that grips on to any flat surface. We placed it on the dashboard of our test car and were impressed with the angle at which it held our iPhone.
The GripStick didn't relinquish its grasp, even when we drove around a mini-roundabout and over some harsh speed bumps.
We found it worked best when slapped down on to a smooth and level surface. We were also impressed that the material held the phone when it was in its case.
Better still, when you peel the GripStick off the dash, there's no sticky residue left on the car or phone. However, while the product is washable, we'd have liked to get a storage case to help the pad maintain its stickiness.
As an alternative, we'd advise keeping the plastic packaging it comes in for when it's not in use.
Our main criticism is there's no adjustment as with a screen holder, so you can't view sat-nav apps safely. But for only £4.95, you can't complain too much.
What's good?Simple solution, can be used with phones in cases, doesn't leave residue, well priced, grippy and washable.
Not so good?Not good with sat-nav apps, needs a smooth surface, no storage case.