SOUL by Ludacris SL99
We test the new Ludacris SL99 headphones which can be used as a hands-free-kit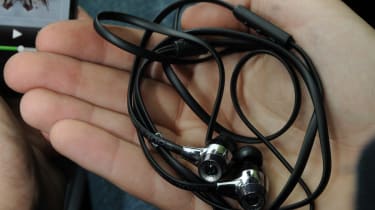 iPhone users will love the SOUL by Ludacris SL99 hands-free kit. The in-ear headphones offer great sound quality and let you use your phone safely in the car.
With a thick black cable and chunky ear buds, they definitely don't feel cheap – and they shouldn't for £89.95. That's more than our current favourite hands-free kit – the £29.99 Jabra EasyGo – but the SL99 has a few tricks up its sleeve.
For starters, we love the in-line remote. It's mounted fairly high up the right-hand cable, so the mic is close to your mouth. When a call comes in, the music fades down and you can answer by pressing the remote button.
And if you're just listening to music, double-clicking the central button skips a track, while pressing once pauses.
But while we had no problems on the receiving end, our caller complained we were too quiet. And when we put the window down to mimic the wind noise experienced in convertibles, they could barely hear us.
You can tell the SL99 is aimed at music lovers more than motorists, as the sound quality is superb. The bass is punchy and the treble clear, plus there's excellent noise cancellation, although this could cause something of a safety problem for drivers.
With both earphones plugged in, you can't hear the outside world – including emergency sirens and other motorists.