RAC Garage Shelving
Bring some order into your garage with the new RAC shelving system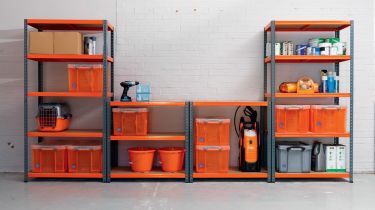 The RAC wants to help you reclaim space in your garage, so it has teamed up with shelving specialist BiGDUG to launch a range of storage solutions. The line-up includes shelving kits, workbenches and storage boxes.
The steel kits stand at 1.78 metres tall assembled, but come flat-packed. However, if you hate DIY you needn't worry because the shelving kits are boltless, so they shouldn't take too long to put together.
Each of the five shelves can support 175kg and you can adjust their height to suit your needs. Prices start at £52.80 for the RACBD01, but you can get discounts if you buy more than one.
The storage boxes start at £16.80, and again the more you buy, the more you save. The most expensive bundle costs £310.80 and for that you get three bays and eight storage boxes. All the products are painted in the RAC's trademark orange livery, and you can buy them directly from BiGDUG or the RAC.