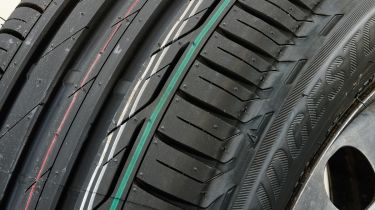 Dry road star, but inconsistent results mean it can't manage better than this overall.
Another new tyre, and another poor result. The Bridgestone T001 lacked consistency and generally had problems on wet surfaces. While it changed direction well on the wet handling circuit, it soon started to push wide early as we leaned on the tyre. It lacked the fine balance of some of its rivals, with the rear of the car moving off throttle. This was nothing to worry about in terms of everyday safety, as you get lots of warning, but we found it hard to set a decent time.
While sixth was all the T001 could manage for wet handling, it finished third in the lower-speed cornering test. It repeated this result in straight aquaplaning, and came fifth in the curve. Yet it was last for wet braking – three metres off the best.
On the dry tarmac of the handling track, the Bridgestone came into its own. There was some rear movement again, but it set the fastest lap. And in dry braking, it was just over half a metre off the best, in the midfield.
The T001 got another podium for rolling resistance – it trailed the Michelin and Continental here, but was ahead of the chasing pack. Still, the highs are not enough to outweigh the lows overall.
| | | |
| --- | --- | --- |
| | Rating | Position |
| Dry braking | 98.0% | 4th |
| Dry handling | 100% | 1st |
| Wet cornering | 98.5% | 3rd |
| Wet braking | 88.2% | 8th |
| Wet handling | 97.0% | 6th |
| Straight aqua | 96.2% | 3rd |
| Curved aqua | 82.4% | 5th |
| Cabin noise | 98.6% | 7th |
| Rolling resistance | 83.3% | 3rd |
| Overall | 98.3% | 7th |