Tyre test 2012
We test eight of the latest tyres to the limit to reveal which is best for your car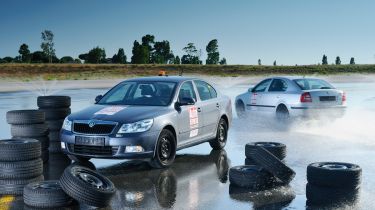 From 1 November, new labelling will make it easier than ever to choose a tyre. This works like the labels on fridges and washing machines, and tells you how well the tyre stops in the wet, how fuel efficient it is and how much noise it makes. But tyre labels don't give you the full picture – unlike our annual tyre test, which covers nine performance criteria down to the last percentage point.
For our first test since makers revealed their tyres' ratings, we look at the UK's top-selling size: 205/55R16. The labels are driven by eco concerns, so our eight test tyres had an H speed rating (up to 130mph) – these are often found on 'green' models.
And we were amazed at the number of new tyres on the market. No maker wants a low label rating, so they've updated their ranges to suit. In fact, the Nokian, Nexen and Vredestein had yet to go on sale. Plus, Pirelli is absent here as its AA-rated Cinturato Blue had yet to be produced in the size we tested.
We returned to Bridgestone's proving ground in Aprilia, south of Rome, where Auto Express drivers did all tests except those requiring specialist skills.
Makers supplied our samples, but we bought two random sets to ensure they're identical to those on sale. These were put through a wet braking test to reveal any compound or construction differences.
Here, we rate our eight test tyres in our nine assessments – with the winner in each test getting a score of 100 per cent, and the rest given a score relative to this.
Our verdict
Tyre labelling has made manufacturers revamp their ranges, as our test has never included so many new tyres that have yet to go on sale. But we've been assured our samples are production tyres. Differences in performance have closed as a result of the labels, too, with all our tyres up to a high standard, although those with a focus on efficiency failed to impress in the wet.
Goodyear put in a strong all-round display, with few lapses, to take the win from Vredestein. Debutant Nexen snatches third from Dunlop and fellow wet weather performer Nokian. This group was a long way ahead in the wet, where the frugal Michelin, Continental and Bridgestone struggled.
Overall results
| | | |
| --- | --- | --- |
| Position | Make | Overall rating |
| 1 | Goodyear | 100% |
| 2 | Vredestein | 99.5% |
| 3 | Nexen | 99.4% |
| 4= | Dunlop | 99.3% |
| 4= | Nokian | 99.3% |
| 6 | Continental | 99.0% |
| 7 | Bridgestone | 98.3% |
| 8 | Michelin | 98.2% |
Check out page two to find out how we tested each tyre >>