Hose reels tested
Winding in your hose is no fun without a decent reel, so we test a selection designed to make car washing easier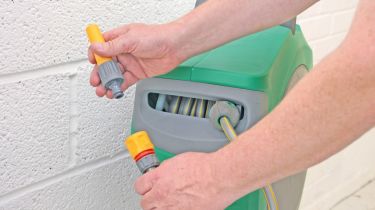 Standalone hoses make cleaning your car a quick and easy job, and they can look great value for money – 
right up until you have to put them away. A few minutes fighting with yard after yard of wet and filthy hose will make you wish you'd splashed out on a hose reel, too.
A good reel will make using your hose an absolute breeze, and some of the latest products to hit the 
market will even do the winding for you, as they incorporate spring-loaded mechanisms like those on a 
vacuum cleaner's power cable.
Buy a bad reel, though, and you'll dread getting the hose out in the first place – and some drivers don't need an excuse not to clean their car. So which are the reel deals? We hooked up 10 to find out.
How we tested them
Ease of use is essential when choosing a hose reel, so we rolled out and wound in each of our test products several times.
With each reel standing on paving, we wanted to be able to walk away carrying the hose without the reel moving, then wind the hose back in with the minimum effort.
We also looked at what you get for the money – points were given for reels with quick-release connectors, including a water stop that halts the flow, plus a spray gun and tap connectors. Instructions and build quality were rated and we looked at how much was included. All the prices we quote exclude delivery.
Verdict
Hozelock has improved its Auto Reel since it won our last test, so it retains its crown. It's pricey, but does everything you need it to. Our pick of the carts is Hozelock's well built Pro, while Draper is our budget reel pick.