Saxon Sub Zero head unit
Easy to use Saxon unit can be removed from car to deter thieves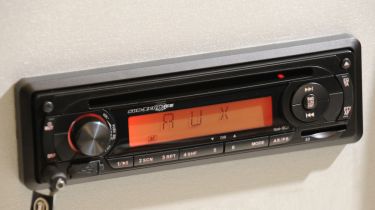 You don't need to fork out loads of money for a new car stereo to hook up your MP3 player. Saxon Brands has launched the Sub Zero Ice SS5107 head unit, which has an FM radio, CD tray, SD card reader, USB slot and aux-in port – all for less than £60.
That's an impressive price, and the good news is that most of the features work well. We played a few tracks from a memory stick, and the screen displayed the artist's name and song title.
However, the unit does feel a little cheap. The black plastic buttons aren't the best quality, and we've seen alarm clocks with more informative screens. Plus, you can only turn the volume up in two-stage increments from 0 to 100.
The functions work logically, though, and the unit automatically switches to play media from whatever input you plug in. Where it struggles is when you plug an Apple cable into the front-mounted USB socket and try to play music from an iPod. We simply couldn't get it to work – so you will need a 3.5mm cable, and you'll have to control your tunes via the player instead of the stereo.
Still, this is an impressive unit for the money. There's even a removable facia and case, so you can hide the stereo from potential thieves.