Microfibre cloths mini test
We test three microfibre cloths to see which reigns supreme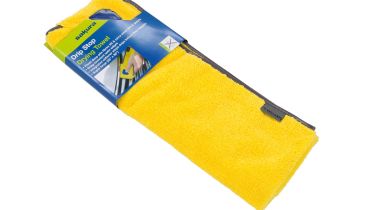 The humble chamois leather has been replaced by microfibre cloths, and manufacturers have developed different products to suit specific individual tasks – be it dusting off minor dirt, polishing or drying your car. Sakura has launched two new towels to join its Drip Stop Drying Towel, and we've compared all three.
Our test involved using each towel in its preferred environment – inside or outside the car. We wanted to ensure each cloth's stiffened corner didn't damage surfaces when cleaning. Finally, we assessed value for money.
There are two clear winners. The Clean Seam Polishing Towel was first to fall – it has nothing new to offer. The Dust Off Detailing Towel is great for your car's interior, with a suede side that's brilliant at cleaning glass, and a brush for cleaning vents. The Drip Stop Drying Towel is our favourite, though – it's huge and clears a lot of water.