Torches group test
With winter approaching, a torch is a glovebox essential. But which is best for a breakdown emergency after dark?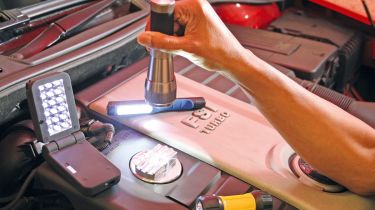 Don't get left in the dark when you break down this winxease as the days grow shorter, and a torch can mean the difference between getting going or being left at the roadside.
Powerful LED technology means you don't need loads of space to store a torch for repairs or to find your way to get help on foot. But which is the best one for your glovebox? We tried out 12 models.
How we tested them
Our top torch had to produce a broad beam for under-bonnet work, plus give out enough light for the user to find their way when walking in the dark.
We also wanted it to stay still – and not roll – when placed on sloping surfaces, to leave your hands free to work. Plus, we gave extra marks for magnetic mounts.
They had to be ready to use, too – with batteries included – and survive a drop-test of a metre. Finally, we took into account price, excluding delivery charges.
Verdict
The brand new Pocket Lamp from Ring is a clear winner here, with a great beam, multiple LEDs and a magnetic mount – all in something the size of a felt-tip pen. Second goes to the versatile but pricey Joby Flare, with its great magnetic, adjustable tripod.
In third is our pick of the conventional torches, the LED Lenser P3, which is small enough to go on a key ring, but delivers a bright beam.
1. Ring Pocket Lamp RIL502. Joby Gorillatorch Flare3. LED Lenser P3 AFS P