Multibit sets - reviews - 2013 group test
A multibit driver lets you cover many sizes and types of fastener in one. We take our pick from 10 tools for car DIY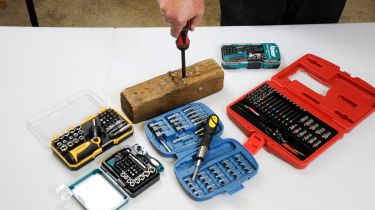 You need a big tool box and an even bigger budget to have a screwdriver to cover all of the different fasteners found on today's cars.
A more convenient and cost-effective way of making sure you won't be defeated by Torx, Star, hex or security bolts is to invest in a multibit set. These usually come with a screwdriver handle, plus a range of quick-change bits covering common fastener types and sizes. The bits can often be used with power tools, too.
But with so many fasteners and a range of sizes, there's a big choice: from tools with a few bits stored in the handle to comprehensive kits in their own carry cases. So our test of 10 picks the best for you.
How we tested them
Coverage is king here, so we wanted essential slotted, Pozidriv and Philips heads in common car sizes included, plus increasingly popular Torx/Star and hex heads. Duplicates in popular sizes also earned marks. Some sets included small metric sockets, but these counted for less because they are often covered by other tools. We also looked for somewhere to keep pieces, while sets with markings on the tools and the storage box scored extra, as this makes selection easy. We checked comfort and screwdriver ratchets, plus build quality. Prices are the best we could find as we went to press.
Verdict
It's hard to fault the range covered by the Halfords Ratchet Screwdriver and Bit Set. Add a decent driver, and you have a winner. If you need a case, go for the well thought-out, great-value Silverline. The superb Sealey is the ultimate set – it's our money-no-object buy.
1. Halfords Ratchet Screwdriver and Bit Set
2. Silverline Ratchet Driver Bit and Socket Set
3. Sealey Fine Tooth Ratchet Screwdriver & Accessory Set