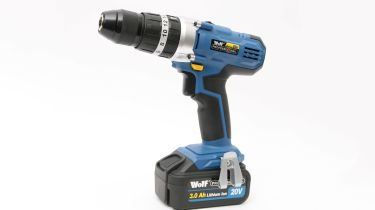 Best price: £99.99 Batteries: 1x20V Contact: 0330 123 0001, www.ukhs.tv
This package from veteran brand Wolf is difficult to look beyond as it includes not just the combi drill tested but a 150Nm hex-drive impact driver. While the drill isn't the easiest to use at more than 2kg, it works well, if a little slowly with the wire brush.
Its biggest drawback is that it only packs one 20V lithium-ion battery. It's a useful 3Ah so was among the best in the durability test, but you need two. You could add another for £40 and still undercut many rivals here on price.