Best car cleaning wipes
Keep these interior wipes close at hand and stay on top of spills and stains in your car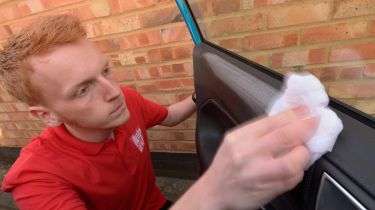 Keeping your car's interior clean needn't involve spending hours and hours scrubbing. You can stay on top of light marks here and there with interior wipes, which are a handy compact solution that can be stored in the glovebox or boot for touch-ups or to clean in emergencies after spillages.
These disposable wipes can be used on most types of materials inside your car – everything from dashboard plastics to cloth upholstery and even some luxurious leather finishes – and some are on sale for a bargain price when compared to regular valeting products.
Packs of wipes are convenient alternatives to spray cleaners, and are handy for keeping in the glovebox to clean up accidental spillages in the cabin. Just make sure you reseal the pack, or the rest of the wipes will dry out and be useless.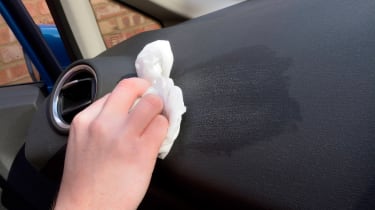 To put a selection of wipes to the ultimate test, we made the interior of our car deliberately mucky by working in everyday food and drink, as well as ink – the kind of marks that parents of young children have to encounter on a regular basis.
And we found the following four worked best at shifting grime.
CarPlan Upholstery Wipes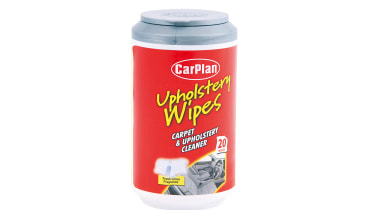 Price: £2.99
Packaged in a neat tub of 20, the CarPlan Upholstery Wipes should fit in most cup-holders for easy reach. But it wasn't just practical storage that scored these wipes valuable points – the cleaning performance was best of the four on self-inflicted stains, acting hard on food mess and inky marks. Although they struggled to pick up the last traces of some stubborn greases – and the linen smell is a bit strong – these sweep up as the top pick.
Halfords Dash Wipes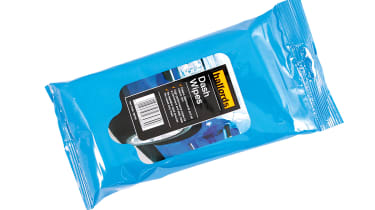 Price: £2.49
One of a number of gems in Halfords' own-brand car cleaning range, these wipes hit hard on interior grime and give off a pleasant lemon scent. On both hard plastic and upholstery surfaces, the wipes tackled rubbed-in chocolate with ease, plus they cleaned up margarine marks with no fuss. Some people will really like the low-sheen finish they left on plastics, and they're great value, too.
Big Wipes Interior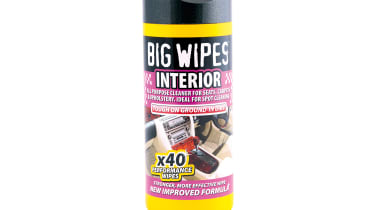 Price: £4.99
Big wipes have disappointed in previous tests, but the formula has been reworked and now we rate them highly. The huge tub contains 40 wipes – twice as many as most rivals – and each wipe is bigger than normal, too, so they'll last longer than most, which justifies the higher than normal price tag. Soaking up and cleaning coffee, grease and ink stains was easy for these, although worked-in chocolate proved more of a challenge.
Armor All Orange Cleaning Wipes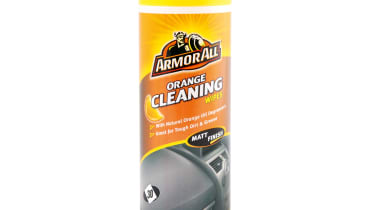 Price: £2.59
We found that the Armor All wipes worked best on fabric and plastic surfaces, compared to every other use inside the car. They were enough to shift light staining from coffee and chocolate on our seats, while even moderate ink markings were removed, too. Storing these inside the car could be a problem, because the tub is larger than others, but there are 30 wipes included, which is more than most rivals here.