GPS lap timer apps tested
Which download is best at recording data to make you a better driver?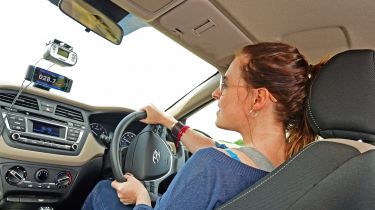 We've been using advanced data logging equipment for years as part of our testing processes, but now simplified versions are available to download on to your smartphone. They can help you hone your skills on a track day, which can make you a better driver on the road, too.
To use these apps, you'll rely on your mobile's GPS reception, which is nowhere near as strong or accurate as an external GPS receiver.
This will set you back £40 or so – still considerably less than the £300 a professional data logging device costs. Also, some of these apps have built-in video recording functions to capture footage of your drive, although to take advantage of this, you will need to use a smartphone mount that doesn't obscure the lens. We preferred the Olixar Invent Pro Holder for portrait orientation and RAM's X-Grip for landscape orientation.
How we tested them
Initially, we compared the apps on price, the smartphone platform they worked on, plus ease of set-up and use. Then, when testing them on two separate track days, we looked at their range of modes and features. We considered the type of data collected, how this was presented during the session and afterwards for review, plus extras, such as video recording ability.
When looking at the user experience, we considered how easy the apps were to understand, clarity of instructions and if we could navigate – or 'toggle' – between analysis pages without too much hassle.
The truth is, collecting data is easy. The difficult part is presenting it all in a relevant way that's helpful for the user, without losing the value of all the options. It's a complex challenge.
Verdict
Despite its complexity, Harry's Laptimer (Petrolhead Edition) does a stellar job of managing all the features a track day fan would want, while giving drivers the choice to customise their sessions. TrackAddict Pro and RaceChrono PRO did the job well, too, and came with unique features that made them worthy of our coveted Recommended award.
1. Harry's Laptimer (Petrolhead Edition)2. TrackAddict Pro3. RaceChrono PRO