Nokian Weatherproof tyre review
Overall score: 100%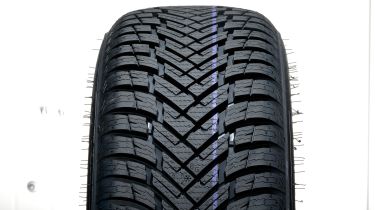 Remarkable ability on snow and in deep water seals victory
While Nokian has a range of summer tyres, winter rubber is the brand's forte. It won our winter tyre test in 2013, so it was no surprise to see its Weatherproof all-season design top the snow tests.
It achieved a clean sweep here, beating even our specialist winter comparison tyre – and it didn't take long on the snow handling circuit to see why. The Weatherproof tyre served up great traction, pulling our car through turns and allowing us to get on the throttle earlier without washing wide. More speed could be carried through corners and on to the next straight, as with the Goodyear.
Despite that flexible, grippy tread at low temperatures, it also starred in the deep water of the aquaplaning, particularly the curve. It was a touch off the best when the water levels dropped, but was still a strong performer. On the handling track it turned in well, although it pushed wide on the throttle a bit sooner than the Goodyear. Add a well controlled rear end and you have a tyre which inspires confidence.
Given its superiority on surfaces requiring lots of tread blocks and flexibility, we weren't surprised by its showing in the dry. You have to wait for the front to bite, and it ran wide on hard acceleration. But this is the least compromised choice on test, and as our tables (opposite) reveal, it isn't far behind the rest. It was in the middle of the pack at the pumps, using around one per cent more fuel than the efficient Goodyear.
| | | |
| --- | --- | --- |
| Category | Score | Rank |
| Price | £69.27 |   |
| Snow braking | 100% | 1st |
| Snow traction | 100% | 1st |
| Snow circle | 100% | 1st |
| Snow handling | 100% | 1st |
| Straight aqua | 100% | 1st |
| Curved aqua | 100% | 1st |
| Wet braking | 97.30% | 2nd |
| Wet handling | 96.20% | =4th |
| Wet circle | 97.70% | 4th |
| Dry braking | 95.30% | 5th |
| Dry handling | 98.30% | 6th |
| Rolling resistance | 94.70% | 4th |
| Cabin noise | 98.60% | 5th |