Michelin Alpin 6 review
A well deserved second podium for the French producer, although the gap over the following three tyres is tiny.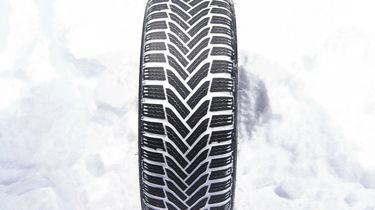 In association with

Michelin's current mission is for tyres to be used down to the legal limit, and the Alpin 6 has grooves that widen and emerge as the tread wears. We tested in as-new condition, but it still proved most effective in the wet, as we saw last year in 17-inch form. It finished third, a step behind our top two here, but clearly ahead of the rest. It felt good, too, with a sharpness others lacked and good grip that lasted well as the lock increased. 
That sharp, grippy front was matched by a well controlled rear. It was best in the shallower water tests, and was near the best in aquaplaning. The Alpin 6 combined that wet grip with good fuel economy – no mean feat when these are conflicting targets. It was at the head of the chasing pack behind the freakish Nokian. 
Dry performance was close to the best, but it was less assured on snow, where it was fifth across the tests. The slight lack of grip could be felt behind the wheel, although it was well balanced.
We say: Yet another good result for the Alpin 6, which is well suited to UK winters thanks to its good performance in the wet.
Blackcircles.Com says: A fairly new model to the market, having only been launched at the end of 2018. Early reviews have been impressive, though, with customers giving an overall score of 4.5/5.
| | | |
| --- | --- | --- |
| Overall | 98.4% |   |
| Snow braking | 95.20% | 3rd |
| Snow traction | 98.10% | 5th |
| Snow handling | 98.60% | 5th |
| Straight aquaplaning | 92.9% | 6th |
| Curved aquaplaning | 93.20% | 5th |
| Wet braking | 97.4% | 3rd |
| Wet handling | 99.2% | 3rd |
| Wet circle | 98.80% | 3rd |
| Dry braking | 96.20% | Equal 4th |
| Rolling resistance | 87.60% | Equal 3rd |
| Cabin noise | 98.90% | 6th |
| Price | £97.76 |   |