Dunlop Winter Sport 5 review
A reasonable performance, but the Dunlop range is beginning to show its age.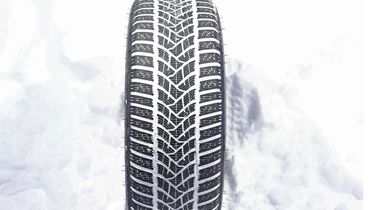 In association with

The Winter Sport 5 has been around since 2015 and, although updates have been able to keep it up with newer designs, it is a little further off the top performers than it was last year in 17-inch form. 
Despite this, it remains a top performer on the white stuff. Across the three tests it finished in third place, just a few percentage points behind the winning Pirelli. 
It actually took the win in our braking test, was sixth – but close to the best performers – in traction, and finished as runner-up in the handling. That's not bad for a five-year-old design. It felt good, too, with strong traction on lock plus a decent balance. 
It was less effective in the wet, where it was only better than the struggling Nokian (left) alongside fellow snow star Pirelli. The Dunlop's wet braking result is of concern, at around 4.5 metres off the winner. There's a floaty feel in the wet, with a weak front requiring care getting on the throttle if the line is to be maintained. 
Its braking performance was also weak compared with the best in the dry, although the margin was smaller. On the plus side it was best of the rest in fuel economy and proved the quietest on test.
We say: Good on snow, but braking a concern elsewhere. Fuel economy and comfort impress but we hope a Winter Sport 6 is in the pipeline.
Blackcircles.Com says: First launched more than three years ago, this tyre enjoys good winter sales. Customers who purchased the Dunlop have left feedback focusing on the tyre's wet performance, giving it a score of 4.5/5 overall.
| | | |
| --- | --- | --- |
| Overall | 97.4% |   |
| Snow braking | 100% | 1st |
| Snow traction | 97.5% | 6th |
| Snow handling | 99.7% | 2nd |
| Straight aquaplaning | 92.7% | 7th |
| Curved aquaplaning | 92.9% | 6th |
| Wet braking | 86.9% | 7th |
| Wet handling | 96.2% | 6th |
| Wet circle | 97.2% | 6th |
| Dry braking | 92.6% | 8th |
| Rolling resistance | 88% | 2nd |
| Cabin noise | 100% | 1st |
| Price | £115.20 |   |