Hydrogen-powered Aston Martin Rapide S
A hydrogen-powered Aston Martin Rapide S will make its racing debut at the Nurburgring 24 Hours race in May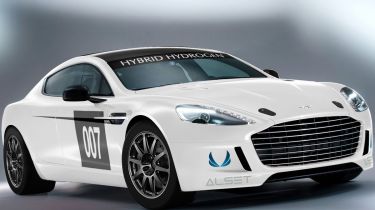 This is the Aston Martin Hybrid Hydrogen Rapide S race car that will make its competitive debut at the Nurburgring 24 Hours race next month.
The Hybrid Hydrogen Rapide S is based on Aston Martin's newly revised four-door, four-seat sports car. The firm claims it will become the first hydrogen-powered car to compete in an international event, as well as the first zero CO2 emissions sports car to complete a race-pace lap at the Nurburgring 24 Hours race.
Power for the Hybrid Hydrogen Rapide S comes from the familiar 6.0-litre Aston V12, but the engine has been modified in collaboration with Austrian specialist Alset Global. The changes include the addition of a pair of turbochargers, a different fuel rail and four carbon-fibre tanks to hold 3.5kg of hydrogen at a pressure of 350bar, which allow the car to run on petrol, hydrogen or a combination of both.
Although the sound of a turbocharged V12 is enticing, the forced induction is necessary to make up for the lack of efficiency inherent in burning hydrogen in a piston-powered engine.
However, Aston Martin claims that CO2 emissions are still much reduced, and the car will run at least one lap of the 24-hour race on hydrogen alone, where the engine will emit zero CO2 and emit little more than water from the exhaust.
In order to race the car, the hydrogen system and its carbon-fibre tanks have been built to very stringent safety standards, and have the full approval of the German motorsport governing body, the DMSB.
Aston Martin's entry in the 41st Nurburgring 24 Hours will be the eighth successive year the firm has taken part. More than 150 cars are expected to race at this year's event, which runs on 19-20 May.