7. Audi A8 Hybrid
Audi's A8 Hybrid curbs the cost of running an Executive saloon without resorting to diesel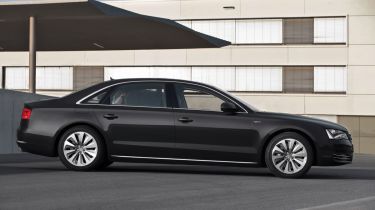 Hybrid technology can cut the cost of running a luxury saloon while retaining imperious performance and hushed refinement. Audi's A8 Hybrid shows how to do it in some style.
In the A8 Hybrid the 208bhp 2.0-litre TFSI turbo petrol engine is joined by a 1.3kWH electric motor, giving a total of 241bhp and 480Nm of torque. Audi says the system provides 44.8mpg fuel economy and 147g/km CO2 emissions. This is on par with an A4 2.0 TFSI auto and undercuts the A8 3.0 TDI's 42.8mpg and 174g/km.
The hybrid set-up sees the electric mounted motor behind the engine, where the torque converter would normally be (it's replaced by a dual-clutch auto). The motor runs off a lithium-ion battery pack, above the rear axle. This weighs only 36.7kg, so doesn't upset the Audi A8's handling; the car is agile, despite its 1,870kg kerbweight. 
But the extra weight does affect the performance in a straight line: the Hybrid takes 1.6 seconds longer than the A8 3.0 TDI diesel to cover 0-62mph, posting a time of 7.7 seconds.
Throttle response isn't very sharp; it makes you wonder if the car really does have all the torque Audi claims. The front wheels are driven through an eight-speed box – this is the first front-drive A8 – and the car switches seamlessly between its three driving modes at the touch of a button.
In full electric mode, the Hybrid can travel up to 1.8 miles and hit 62mph. Select D, and the most efficient power source is chosen for the conditions, while S offers maximum power. But when you pull away, the car initially uses electric power; the engine kicks in when the batteries run down. A dash meter shows battery charge and regenerative braking energy.
The A8 Hybrid still has luxuries like leather, a Bose stereo and three-zone climate control, plus LED lights and unique 19-inch alloys. Prices have yet to be released, but Audi is positioning the Hybrid as an alternative to the 3.0 TDI, which starts at £56,610.